i'm happy to introduce a new weekly installment to howd.i.y. – we are going to call it "handmade find friday."
these regular posts will feature new handcrafted goods that i've recently added to my collection. it might be jewelry, home decor, stationary, etc… whatever it is – it's probably something i purchased on etsy, at a market or from some other local gem with limited production.
this week i want to bring attention to my new bolo-necklace. i'm obsessed with it.
i'd been set on the thought of getting a bolo necklace for ages now. i'd had a few bolo ties in the past, but always something trendy with a leather or fabric cord and only suited to particular outfits (i was especially into them 20 years ago back in jr. high school… they were actually a bit frightening. i'll see if i can dig up some photos).
this time around i knew i wanted something brassy gold and a bit timeless. i had spent months searching on etsy and then alas… one day i found CheyneByPaige. she had one nearly identical to what i'd been looking for. i contacted her and asked her if it would be possible to make a few changes to the chain… she could. and then voila, there was the perfect bolo-necklace! it's a brass triangle with a long brass chain woven throughout it and dangling for inches (photo + link below).
(bolo backstory: while embarrasing to admit, i also saw a necklace similar to this one on bravo's reality soap "gallery girls" – a show full of overly dramatic twentysomethings with not-so dramatic problems. claudia, one of the artsy hipster "brooklyn girls" (as opposed to the show's preppy "manhattan girls") was wearing a bolo tie in an episode. turns out it was marketing for their shop end of century. i had a look on the website and there's one very similar to it for $396.).
i'm now even thinking about adding a few new bolo additions to everybutton… pending i find the perfect buttons for the job. stay tuned on that…
anyway – back to my beloved brass bolo tie necklace. here is what paige came up with: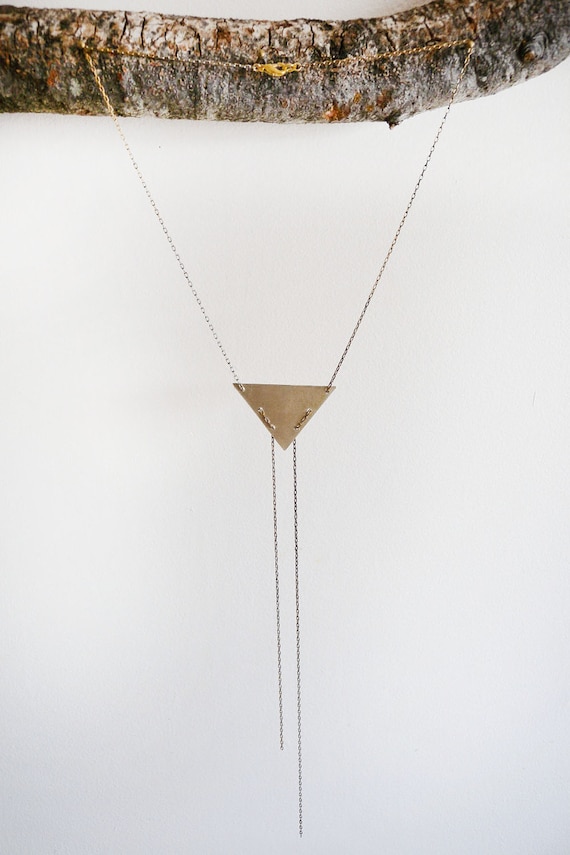 "the pippin" brass bolo tie necklace by CheynebyPaige
$50 on etsy
a headless me – modeling my new bolo tie necklace…
_____
thanks for joining us for our first handmade find friday. have a wonderful weekend doing something stressfree, creative and fun!