earlier today i muttered the words "there are a lot of creative people out there" to a friend – this was in response to the fact that there are so many damn cute and creative shops on etsy! whether it's your work, a friend's or a stranger's – handmade is inspiring.
the authors below have the creative gene + are pros at curating it (something i strive for here on little ol' Howd.i.y).
so… i bring you 4 new handmade books worth checking out (+ some worthwhile stocking stuffers for the crafter in your life!)
oh, happy reading!
_____________
Craft Activism: People, Ideas, and Projects from the
New Community of Handmade and How You Can Join In
Author: Joan Tapper
($15.63, Amazon.com – released: September 27, 2011)
Make Hey! While the Sun Shines
Author: Pip Lincolne
($39.95, Readings.com.au – released: October 1, 2011)
Weekend Handmade:
More Than 40 Projects and Ideas for Inspired Crafting
Author: Kelly Wilkinson
($17.62, Amazon.com – released: September 1, 2011)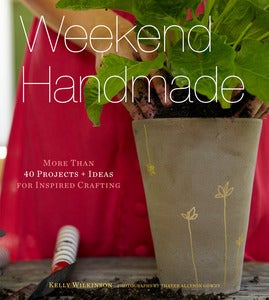 Martha Stewart's Handmade Holiday Crafts:
225 Inspired Projects for Year-Round Celebrations
Author: the editors of Martha Stewart Living
($16.01, Amazon.com – released: September 27, 2011)